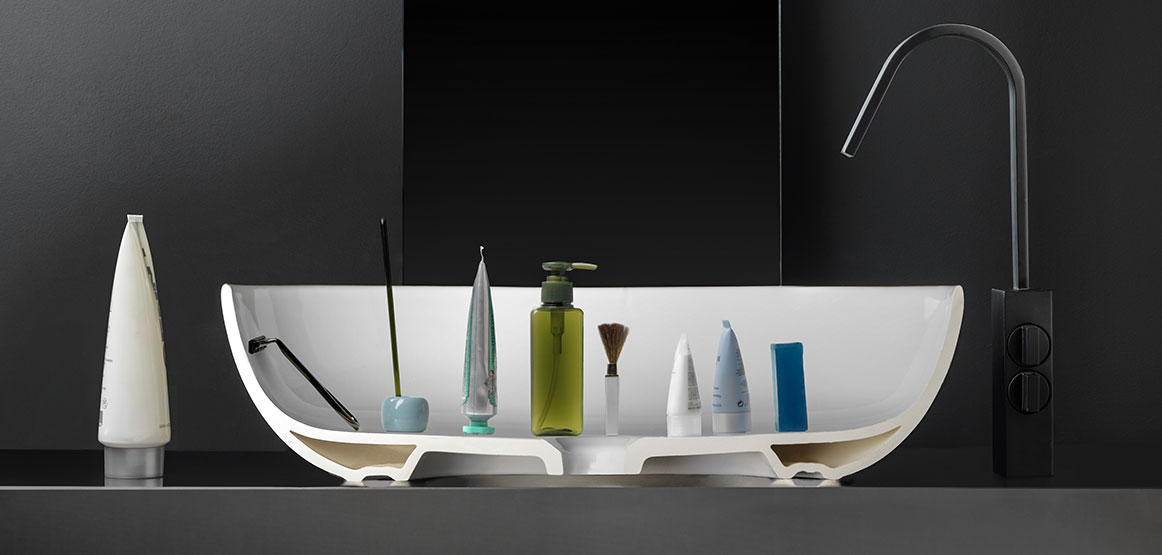 It is a new and exclusive ceramic mixture that allows to produce wash basins with only 6 mm thin edges, without affecting the product stability and geometry.
After years of continuous and arduous research, the laboratory of Ceramica Globo has invented a new patented mixture named GLOBOTHIN® which enables to reduce the edge thickness, on the one hand, while providing brighter gloss and greater resistance, on the other hand. There are several and remarkable advantages: less raw materials employed and therefore lighter products, less energy required, and greater ductility which makes creating new shapes possible.
Tests conducted by certified laboratories have given, according to the law UNI 4543, excellent results as far as water absorption and mechanical resistance are concerned. This ensures a brighter gloss of the glaze and determines an improvement of about 38% more than the minimum threshold provided for by law.
This new technology had a dramatic impact on the design of new shapes: new horizons open up and Ceramica Globo is willing and ready to explore them by creating increasingly cutting-edge and performing products.
GLOBOTHIN ® has shown innovative features already in the first months and it will surely have further developments which are bound to confirm, once again, that our company ranks among the market leaders.
Globothin® complements the other three important pluses of the Globo brand:
-Bagno di Colore: this range enables to choose among 14 ceramic colors;
-Ceraslide®: this is an innovative glaze which has been developed and tested to give the product a durable efficiency over time;
-Bataform®: this is an antibacterial treatment which has been developed to ensure maximum hygiene.